Hi all,
Matt and I were talking about our investments and making good decisions and naturally this concept came up. After speaking with our financial advisors I've personally decided that you should invest in what you know but also diversify. Our financial advisors don't like the idea of dumping everything into real estate because it's not liquid enough, meaning, we can't turn those homes into cash quickly. Being a Realtor, of course I want to dump it all into real estate because I know and understand real estate. That being said, I see their point. What I've come to take away is that real estate might not make you quite as much money compared to stocks but the difference is marginal and at the end of the day you still have the real estate that will either continue to grow or you can sell it and make up the difference. I like the idea of having something to show for my money rather than just having money. Full disclosure: All of these opinions are just that, opinions. I don't know much about financial shtufff and you should NOT take my advice because this is NOT advice.
Matt found this video and I think it explains stocks versus real estate very well. Enjoy!
There are several reasons why our Chief Economist does not believe there is a housing bubble today in the U.S.
Below is a slide he shared at our recent market Forecast events.
It shows U.S. Home ownership rate, which is simply the percentage of the population who own their home (versus renting).
The long-term average is 65% represented by the red line.
In the graph you can clearly see the bubble forming. Starting in the mid-90's, driven by several political and economic factors, more people than ever before became homeowners.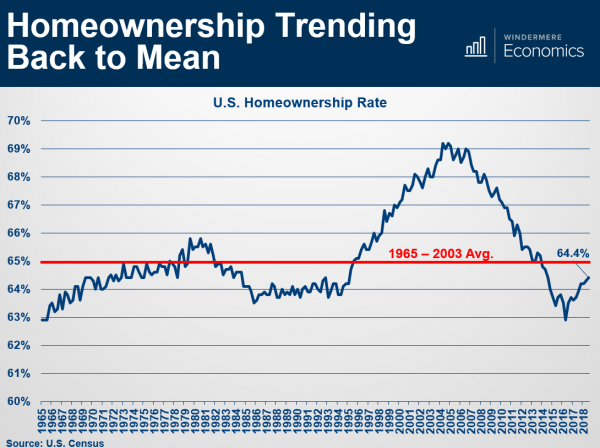 Then, starting in, 2008, the bubble burst and the percentage tumbled back down.
Now, as you can see, we are back at a "normal" level that resembles the long-term average.
________________________________________
If you would like a copy of the entire Forecast presentation, go ahead and reach out to me. I would be happy to put it in your hands.
Posted on February 11, 2019 at 11:17 pm
Sarah Schilz
Category:

Fort Collins Real Estate, News, Northern Colorado Real Estate
Tagged

blog, economic factors, economics, fun facts, homeowners, housing bubble, long term average, news, own vs rent, percentage, plitical factors, population. windermere